Internet of Behavior (IoB): Everything You Need to Know to Boost in 2022!
Ever since the pandemic, we have seen how personalization is now everything. The biggest social media platform is now TikTok. The algorithm that platform uses is unrivaled. It uses AI and Machine learning to understand the user's behavior and only shows relevant and tailored content. This has led to its massive success. In all parts of the industry, we have seen such a shift where users will attract toward personalized content. This process of gathering and tailoring content is known as the Internet of Behavior (IoB).
This is an extension of IoT that focuses on collecting the "digital dust" of people's daily lives and capturing, processing, and analyzing it. According to Gartner, about 40% of people will have tracked their behavior via the Internet of Behavior globally by 2023. In this article, we will see what you are and how you can use it in your favor!
What is the Internet of Behaviors (IoB)?
Internet of Behaviors (IoB) is a branch of the Internet of Things (IoT) and an area of R&D (Research and development). Which is understanding a user's data in their activity and finding trends in it using data analysis for patterns. Once users' data is gathered, it is then analyzed psychologically to look for anything that can be used by algorithms to influence that user's behavior.
This data is extracted from anywhere, from a user's computer to their smart home devices to even their online activities and presence. Ever wondered how quickly you get advertisements for bakeries and baking supplies once you watch a Cheesecake Recipe? The main goal for any team analyzing the Internet of Behavior (IoB) for any user is to find a way to quickly monetize their activity. This article will show you step by step how to build your application via which you can Sentimentally Analyze tweets in real-time based on a Keyword
The Internet of Business (IoB) gathers and analyzes the data. Uses Search Engine Optimisation (SEO) to market its final products/services to the relevant user. Since this research uses Machine Learning, over time with a lot of data, it creates a perfect funnel. This can redirect any customer with interest to relevant products without much or any human interaction.
We can't talk about you without the mention of the Internet of Things.  The IoT is an interconnected network of physical devices that gather and share data and information via the Internet.
In the illustration below, you can have a brief overview of how this phenomenon works: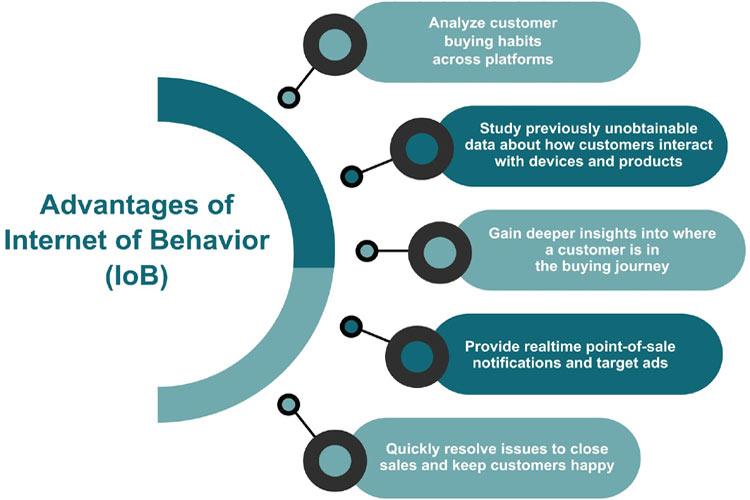 Internet of Things (IoT) and Internet of Behaviors (IoB).
Now, what do we mean when we say IoB is an Extension of IoT? The Internet of things has brought us closer than ever to the likes of the metaverse. With your voice or at one touch of a button, you have access to most of your electronics and appliances from anywhere in the world.
Alexa has access to our lighting, our TVs, and more. These things over time, do collect your data and as you might have noticed, as time passes, they feel like part of the family. Your lights are dimmed at your typical bedtime, and your curtains open when you wake up. They remind us of what we have in our calendars for the day and adjust accordingly. The health apps we use to monitor our pulse rates, blood pressure, etc, send the data and hence we get a more personalized health routine from our health apps.
When this much data is collected, the IoB learns what products/services you like, before you even think of it. Our smart home devices would've added toothpaste to our basket even before we squeeze the last bit out of it. It will display the content it has learned we enjoy. And this is how the Internet of Behaviors helps businesses market perfect products to the perfect customers.
The Future of the Internet of Behavior in Industries.
The Internet of Behavior is such a huge area of research, it can play an important role in any industry. Especially in Industry 4.0. From E-Commerce to healthcare, SEO to products, it is the ultimate personalization factor. Here are some real use case examples:
IoB in Business
Analyzing users' grocery purchases to tailor custom promotions for them and suggest more items they might like.
 Use social media to track behavioral data of users and suggest content and applications that similar users with similar interests have used.
Use the Geographical Data of a customer to have personalized discounts for them at any POS (Point of Sale) they are at.
IoB for the Insurance Industry
In the insurance business, you might be very valuable. Driver following devices are as of now utilized by insurance agencies like Allstate and StateFarm to follow and get a driver's direction. With the assistance of IoB, they might assess the conduct and maybe decide whether a specific event was a mishap or a misinterpreted presumption concerning the guarantee.
This can assist with forestalling episodes of tipsy driving, driving affected by drugs, and surprisingly underage or resigned people from getting in the driver's seat and causing a mishap.
Facial Detection and Physical Status
Since the pandemic, a lot of stores have adopted technology to scan faces for temperature checks. Similarly, we can use these tools to see whether a certain mood affects the order of a customer. For example, at a coffee shop, with the help of a quick scan, we can determine the customer entered is a young student who looks tired, hence they might need an espresso shot and would prefer a more isolated seating. Similarly, any industry can do such product segmentation.
Health Monitoring for Patient Recovery
IRB is presently utilized in making well-being applications for cell phones that can follow an individual's eating regimen, glucose level, pulses, and rest designs. Besides, it can caution a patient with regards to their present ailment, propose that they relax, and adjust their dietary patterns or medication consumption likewise. This fundamental data can save lives and assist specialists with diagnosing ailments and starting legitimate treatment quicker.
Travel Booking
Travel organizations can make tweaked and significant offers and proposals by concentrating on customers' social-segment attributes and past web-based conduct. Booking.com, for example, empowers clients to book lodgings, resorts, and staycation facilities for a particular objective.
Our friend's Analytics steps have gone into detail about the uses of IoB, you can check out their article here.
Repercussions of Internet of Behavior.
With every great technology, comes its own set of unique problems. Of course, since the  Internet of Behavior is a subset of IoT, the problems are quite similar.
Lack of Privacy
IoB lives on users' data, yet users are kept in the shadows regarding how their data is collected or even what cited data is. In addition, there are still no legitimate structures for information route and use, particularly for a bigger scope. However, usually hidden under the privacy policy we all quickly accept because let's be honest, no one has time to read a 10-page document.
Conclusion
As long as we evolve, our behavior will also evolve, and now technology is a part of us. It will grow with it, trying to become more understanding of human nature to make lives more simple for us. Slowly but surely, we are moving towards an era in which this will become an exciting aspect of every business. And with it, we hope the laws and regulations are in favor of the users as it is their data and their privacy. Web 3.0 is all about that and we are certain it will understand this.
The overall concept of the Internet of Behavior (IoB) is remarkably fascinating, with its cutting-edge technology to be able to understand such complex patterns in humans is truly unrivaled. And this certainly opens up more doors in which we can move ahead in technology.